Marketing: How To Source For Students, Parents And Tutors
This is day 2 of our 5 days training specially design for our area coordinators.
We have already talked about the history behind Excellent Home Classes, who an area coordinator is, the roles, qualities needed and how much you can earn.
If you have not already read this, I suggest you start from here:
In this lesson, we are going to look at marketing with respect to getting students, parents and tutors.
Sourcing for Clients
One major role that can make you successful as an area coordinator is your ability to source for students and parent within your local community.
In addition to this, tutors from schools, colleges and university campuses in your area will also be contacting you to sign them on board for tuition.
Your ability to market yourself and to let people know more about what you do will go a long way in making you successful as a coordinator.
The following are few key steps you can take to promote yourself in your community.
1) Word of mouth
This is the best place to start. Tell everyone you know about your tutor business and hopefully they'll spread the word. Tell family members, friends and acquaintances.
You can offer a "finder's fee" and pay the person who refers you 100% of the first lesson fee.
2) Business Cards/Flyers
Get hold of some business cards with your name, address, phone number, e-mail address and website address. Now a day, you can download apps like canva and do it online or with our phone.
It doesn't need to be too fancy.
Keep the design fairly simple, but you might want to consider a theme linked to your tutoring.
Leave a few of your card in local shops, libraries, sports centres and events.
Don't be pushy, but when people ask what you do, tell them and offer to whatsapp them your card.
With the same apps, create some flyers, posters and put them here, there and everywhere – local shops, libraries, sports centres, notice boards schools, music colleges and universities.
Here are sample flyers you can use: What you have to do is to download, print out fill in your name and phone number and start sharing. Simple as that.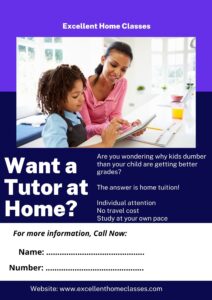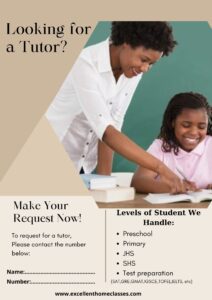 Click here and download these flyers
3) Think about demographics
This is important. For example, while you can target younger people, college kids, school pupils etc, don't overlook one important age group.
The retired.
If you can find an area in your town or city with a predominantly older demographic, pop a few flyers through their letter boxes. Many retired people have time on their hands and would love to learn a new skill.
Personally, I meet so many who wish they'd learnt the piano when they were younger and I simply tell them it's never too late. Also, you might meet some who had lessons years ago and just didn't like their teacher.
4) Phone/E-mail
I'm not saying go and cold call 1000's of residents in your town, but it might be worth contacting local teachers in schools and ask if their students would like lessons or extra tuition in a particular subject. These people are well connected and once they pass you one student, you can quickly gain some referrals.
In the early days when I started tutoring, I remember sending about 100 e-mails to local independent schools, offering my services with a link to the website, and I got 2 students with two full days of teaching!
You can do same.
5) Contact the competition
If there is an established tutor in your town, give them a call.
If they have a full teaching timetable, they might be turning away students, when they could be passing them on to you. This strategy can work well, and as long as you show it is in their interest, most will go for it.
For example, if they teach maths, and you can get a tutor for science, he could refer students to you.
I know one music tutor who often performs at weddings and if he is busy he recommend people to contact me.
6) Take up a leadership role
Depending on your interest, you could volunteer as a leader in your community and ones a while invite people to watch a short presentation showcasing what you do as a coordinator.
For example, If you're a Sunday school teacher, you could talk about how most students are struggling in school and what you can do as a coordinator to help them solve this problem. you could even ask your students to tell their parent about you or even give them your contact so they can speak with you.
This could also work if you manage a club, a gym or other community groups.
In addition to the local groups, why not approach schools and see if you can give free presentations there.
Make it exciting so pupils will go home in the evening and beg their mum and dad for lessons from you!
7) Local celebrity endorsement
See if you can get a local celebrity, or someone really well known in your town or city, to recommend your services as a coordinator. They can use their connections with the local media to boost your profile.
8) Use Social Media
10 years ago, the only way to find a tutor/teacher was to search through a local directory or 'yellow pages'.
Today, students are using social media platforms and online communities like – Facebook, Instagram and Quora to find a suitable tutor to match their needs.
Nowadays, social media has become an essential part of marketing.
So, start by joining social media platforms to tell people about what you have to offer.
Social media is simple: the more active you are on social media, the more will be your engagement and higher will be the chances of people who will get to know about you.
Here are the most popular social media platforms which you can use to attract students and parents–
Facebook
Instagram
WhatsApp
LinkedIn
Twitter
WhatsApp status
Youtube
9) Start networking
Networking is a great way to stand out from the crowd.
No matter where you are staying – there are always events and meet-ups that you can be a part of to promote yourself in our community.
The key to networking successfully is to always give value and share your experiences and insights with others.
Joining events will help you understand the market and also gain insights into the challenges facing students in our local community.
Don't try to sell your services immediately – start by joining events, seminars and meet-ups, provide value and market yourself to students and parents.
If you really want to be successful as a coordinator, then it is important to know the benefit of networking.
10) Write classified ads
Prepare an ad for your local online classifieds. You will need to write your headline, summarize your our services, and provide your contact information.
Make sure that your ad has a great headline. Try using a similar headline to the one you used for your flyer.
Keep your classified ad short. Provide just the essential details.
Include an eye catching photo of either yourself or a tutoring scene.
For your free classified ads, check these websites:
11) Ask for recommendations
It's amazing how many people are too shy to let their existing students know that they have space to take on other students. Once you've formed a good relationship, ask parents to spread the word for you – they'll be more likely to speak about you if you've asked them to.
Conclusion
The secret to getting more students, parents and tutors is not to outspend everyone else.
Instead, you need to get creative with your marketing and make a big splash with out-of-the-box thinking.
This will provide you with bigger results than huge spending will ever be able to do.
This kind of creative, unexpected growth is often termed growth hacking. It's a way to promote yourself and what you do.
There are students everywhere within your community. All you have to do is to increase your visibility.
Other Resources
Top 3 Qualities of the Most Successful Sales Professionals
10 Effective and Cheap Ways to Market Your Business
Effective Offline Marketing Ideas for Startups
Assignment
Click here and complete your assignment for this lesson.
Coming up next
Day 3 – How to answer phone calls and provide administrative support.