Why Only 5% of Students Are Getting Better Grades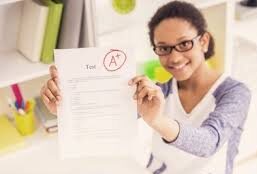 Education is undoubtedly one of the most precious gifts any parents can ever give to a child. But research has shown that out of 100 students only 5 gets better grades.
In this post my goal is to show you why this is so and also help you to know how you can get yourself or your child to be among this 5%.
Today due to increasing competition in examinations and the cut-off required for getting admission into high schools, colleges and universities, it has become necessary for students to push themselves beyond the boundaries.
Unfortunately, relying only on the instructions receive from schools will be a bad idea since this is insufficient for students to perform well.
Imagine a school teacher handling a class with more than 20 students. In other for the teacher to complete the lessons on time, he/she will have to handle the students as group. When this is so, it becomes difficult for the teacher to provide personalized attention, something which is necessary for maximum performance. But you see, every child is different and everyone learns in a different way.
Some of us learn my watching, others learn by listening and few also by doing.
Albert Einstein once said "Everybody is a genius. But if you judge a fish by its ability to climb a tree, it will live its whole life believing that it is stupid."
So you see, teaching a child with a different learning style to sit and listen because that is the only available way of teaching makes it difficult for the child to perform well.
And this is the reason why lots of students are failing today at school.
Click here and download a copy of our special report "The Secret For Getting Better Grades" for free
Below we are going to look at 10 reasons why most parents are now considering home tuition as a necessity to aid student performance.
Class strength
Class strength is the main difference between learning in a classroom and one-on-one home tuition, and it is also one of the biggest advantages.
Everyone knows that a smaller student-teacher ratio allows students to be more focused during classes as there are minimal sources of distractions around them.
On the contrary, in schools, teachers waste their precious time disciplining students to maintain a conducive learning environment.
In one-on-one home tuition, students can study comfortably and without distractions resulting in better learning.
Experienced home tutors
Good home tuition services always aim to provide tutors who are usually well-qualified and have a reasonable number of years of experience in teaching.
Teachers who register as private tutors possess all the desired qualities for tutoring a child. Home tutors always make an active effort to do the best for their students.
Parents and students take demo classes from tutors before finalizing on the right tutor.
Proper care and attention
Due to the lack of disturbances in one-on-one home tuition, students are more focused during classes.
Even shy students actively ask questions and get their doubts clarified.
Students are supervised, guided and taught by tutors ensuring parents that their children are under proper care and attention.
Read Also: How Classroom Learning Differs From Private Home Tutoring
Personalized teaching
Every child has different learning needs and must be taught at a pace which ensures better learning outcomes.
A good home tutor gives personalized guidance and this is one of the biggest advantages.
In one-on-one home tuition, tutors change their teaching style, techniques and strategies to suit the student they are teaching.
Convenience
In one-on-one home tuition, classes are conducted in comfort of student's own home which reduces lots of undue travelling time. Busy schedules often means parents do not have time to support children and help with homework. Moreover, as the academic year progresses, the homework becomes more challenging.
Home tuition is a great way of supporting children with gaps in their learning or to go over topics a child may not have fully understood in the classroom. A private tutor has the skills, knowledge and most importantly, the time to meet the educational needs of each child.
Increases self-Confidence
Self-confidence is the most crucial attribute children require to progress in the classroom and beyond.
Because home tutors develop a more personal relationship with children, they can understand all their educational needs and enhance their possibilities of achievement.
When a child can overcome difficulties and challenges with learning, they certainly feel a boost in self-confidence, which accelerates learning.
Through private tuition, special attention and coaching are provided to students of all abilities and levels.
It will surely increase the self-confidence of children. Once a child has confidence, they can achieve anything.
It's the confidence that gives them the drive and motivation to learn and achieve things they probably felt they couldn't.
Read Also: Qualities Of A Good Math Tutor
A comfortable, safe, and friendly environment
Sometimes students feel shy or may not be willing to ask questions in front of the class. One-on-one  tuition provides a comfortable, safe and friendly environment, giving them more confidence to speak out.
Home tuition offer a safe environment for children to ask their questions without feeling shy or embarrassed.
Home tutors ensure children are comfortable to have open discussions about things they are unsure of without feeling vulnerable.
Homework help
Homework can be a chore for most children (including parents!).
A home tutor will provide support for students with homework set at the right level.
Homework is to enhance the learning experience and reinforce what the child learn at school.
Homework is something a child should not struggle with if they have learned and understood the topic, sadly, this is not always the case at school.
Regular assessments
Assessments and testing are a part of school life. It happens at the same time for everyone in the classroom, regardless of whether a child is ready.
Home tuition supports and prepares the children by giving them the opportunity to practice and revise topics in a variety of ways before they are required to sit an assessment.
Asking a child to take an assessment is a daunting experience for them, especially if they are low in confidence and are weak in subjects such as math and English.
A home tutor will support the child by helping them to develop study skills and techniques. He will continuously monitor the progress of the child by carrying out regular short assessments.
Through the regular assessments, he is able to analyse weak areas and offer further support before he/she undertake final assessments and exams.
Read Also: What Makes A Good Tutor? Find out…
Achieve individual goals
Studying is not all about getting higher grades and marks; it also about achieving specific goals and targets.
These goals and targets may go beyond the academic curriculum.
Home tuition helps students achieve their individual goals and targets and overcome the challenges of academic life.
A home tutor will support a child with social and soft skills as well to prepare him/her for secondary school, college, university, and work.
Home tutors play a key role in building confidence, self-esteem and soft skills that are just as important in the real-life world to get a job in the future.
Other Resources
WARNING: Don't Hire Any Tutor Until You Read This
Where Can You Find A Home Tutor?
Are You Looking For A Chemistry Tutor?
Qualities of a Good English Tutor
Qualities Of A Good Science Tutor
Home Tuition: 8 Reasons Why It Works
Conclusion
Every good student has got a home tutor who provides him/her with personalized one-on-one support and that is the secret of their successful academic performance.  A home tutor provide proper care and attention, personalized teaching, increases self-confidence, provides a comfortable, safe, and friendly environment, provide homework help, and also helps students to achievement their individual goals.
This is the reason why many parents see significant improvement in the academic performance of their child with the help of home tuition.
Are you a parent looking for a way to help your kids to excel at school? Then waste no time. Click here and request for a home tutor now!
If you like what you've read and the information in here makes sense to you, then Click here and download our special report for free.
Feel free also to leave a comment below. We will love to know what you think.